TV MOUNTING SERVICE
Let Our Handyman Experts Mount your TV Safely and Securely
Mounting your television on the wall enhances the viewing experience, creates more useable space in the room, and offers a modern, sleek look. If you're looking to elevate your entertainment room or add a big screen to any space in your home, trust the experts at HomeSteady for TV mount and installation help.
Get ready for a better movie night. Contact your local HomeSteady to request your appointment today.
Do I Need a Pro to Mount a TV on the Wall?
Manufacturers that provide or design specific TV mounting brackets have made mounting your TV easier. Homeowners who have the necessary tools and can recruit an extra set of hands can often install a TV. However, improper installation can lead to damage to your television, your wall, and could injure family members if something goes wrong.
HomeSteady technicians are prepared with the training, proper tools and equipment, and can adapt mounting techniques to safely install a wall-mounted television safely. Our technicians can also ensure a tidy job, complete with cord covers to hide cables hanging from the TV.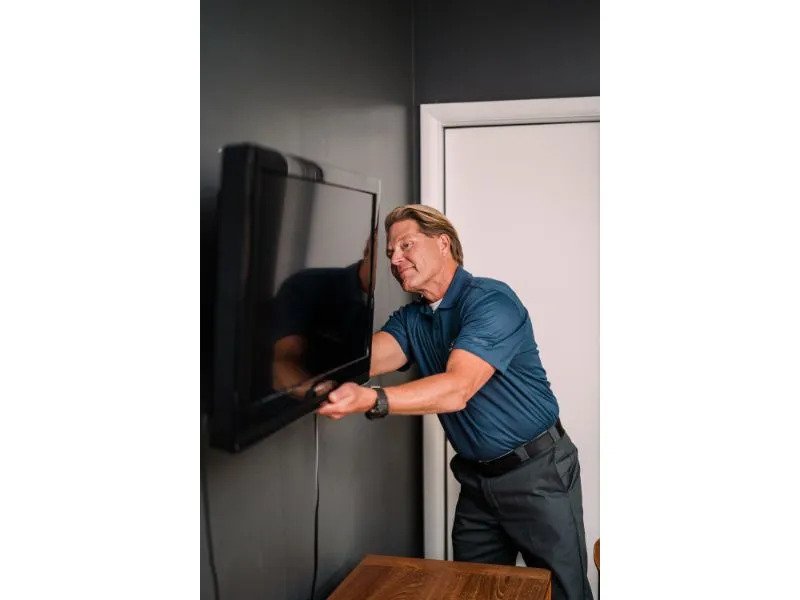 Things To Think About for a Wall Mounted TV
To get started, you'll first need to select the best type of wall mount for your home. There are several types of TV wall mounts to choose from, including:
Fixed mounts. A fixed TV mount is completely stationary and keeps the television squared and flush with the wall.
Swivel mounts. This type of TV mount allows for a limited amount of movement to the left and right to optimize your viewing angle based on where you're sitting.
Tilting mounts. Tilting TV mounts pivot vertically, allowing viewers to change the angle and allow for better optics for a TV mounted high up on a wall.
Full-motion mounts. As the name suggests, full-motion mounts combine the movement of both swivel and tilting mounts. There are also full-motion mounts with telescoping elements that can move the TV out further from the wall. This is useful when mounting a television in a corner.
Choosing the right mount for your TV can be tricky. If you need help selecting the right one, your local HomeSteady will be happy to help you make the right decision. That way, you'll have the perfect mount ready to go for your TV mounting appointment.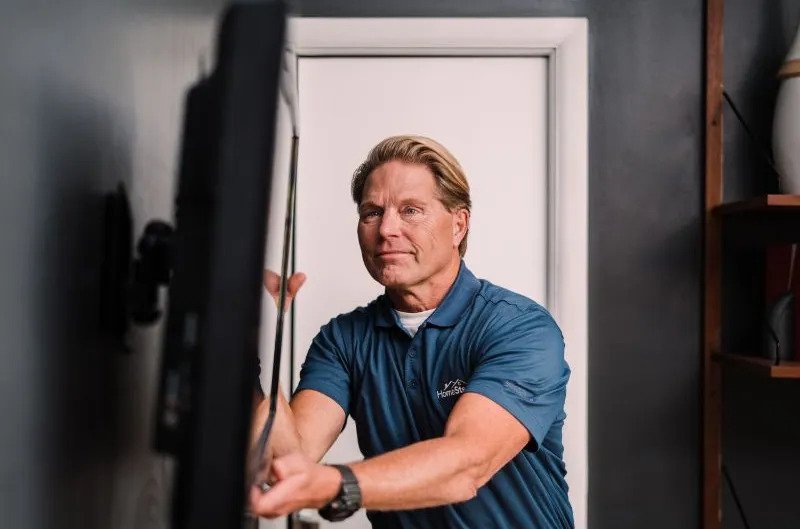 How High to Mount Your TV on the Wall
This is one of the most common questions about installing a TV wall mount. Experts recommend installing televisions at eye level, though this can often feel too low. One popular school of thought is to install the bottom of the TV at a seated person's eye level. The top of the TV should be no higher than eye level when you stand up. Try taping a cardboard cutout of your TV to the wall to test all the viewing angles.
TV Mounting Service Near Me
Trust the experts at HomeSteady to offer timely, professional TV mount and installation services to make your next movie night even more special. Find a HomeSteady location near you or contact us today to schedule your appointment.
FAQs
Not all televisions can be mounted to a wall. To see if your TV can be installed on a wall mount, refer to your owner's manual or check the manufacturer's website.
Most curved TVs can be installed on a wall mount. They may require additional considerations regarding placement to avoid issues with interfering with family members walking past. Always check the manufacturer's guidance for selecting the correct mount for a TV.
Your HomeSteady technician can hide exposed TV wires using a cord cover. Please speak with your technician for more information.